This is a sponsored post written by me on behalf of Wendy's for IZEA. All opinions are 100% mine.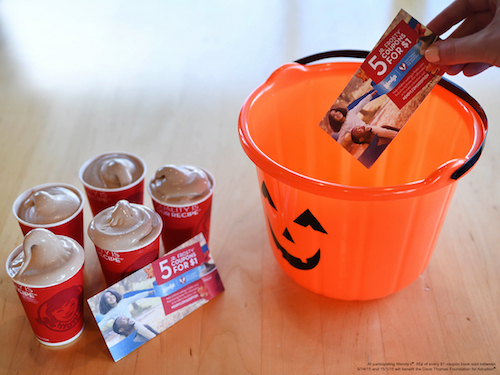 I remember some houses giving these coupons out for the holiday when I was a kid, and being excited to head to go to Wendy's® to pick up my treat in November. It was always a special outing, or my parents might reward me for doing an errand with them by saying "and we can use your coupon!!"
I always thought they were pretty cool, and would seem to extend the Halloween holiday a little bit further for me. Especially if I binged on most of my candy on the night of October 31st.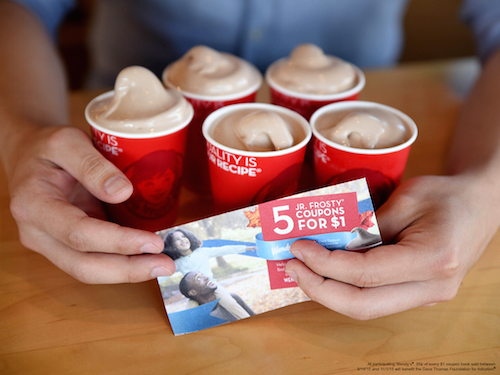 So as I was thinking about items to give out to our Trick-or-Treaters, I thought back to my Wendy's® coupons, and I learned that they are actually part of a great cause – by supporting and finding forever families for children waiting in foster care.
You see, Dave Thomas – the founder of Wendy's® – was an adopted child. He knew first-hand the importance of having a family. He started the Dave Thomas Foundation for Adoption®, which works to find permanent and loving homes for more than 130,000 children waiting in North America's foster care system. Dave Thomas believed that children in foster care "aren't someone else's responsibility, they are our responsibility."
From September 14 through November 1, Wendy's is selling its Halloween Coupon Books. For $1, customers can get five or 10 free Jr. Frosty coupons. * Funds from the sales of the coupons books will go to the Dave Thomas Foundation for Adoption® to support programs such as Wendy's Wonderful Kids. **
Have you looked around Wendy's when you've been inside? Quite frequently they have pictures of children hoping to be adopted. There's signage in my local Wendy's often promoting the Heart Gallery for Adoption Rhode Island. They are beautiful and personal pictures of the lovely children waiting to find their forever families. It always warms my heart, and has often made me want to help them.
As much as I would love to help each and everyone of these children, and welcome them into my home, I can't right now. I've already got my hands full with my two vibrant kids.

But I CAN help by supporting them through something as simple as purchasing the Jr. Frosty Halloween Coupon Books. The Dave Thomas Foundation for Adoption relies heavily on support from Wendy's customers, like myself, to fulfill their mission to help find families for children waiting in foster care.
So if you're like me, and are trying to decide which treats to hand out this Halloween season, maybe you can do something a bit different than the traditional candy bar or lollipop. Maybe those kids will get to go on a little adventure to Wendy's with their parents in the months leading.
And, you can know that every 85cents out of the dollar booklet you purchased has gone straight to the Dave Thomas Foundation for Adoption.
Kids eat Jr Frosty's, and other kids get forever homes. Sounds like a pretty sweet Halloween treat to me!


What Halloween treats are you giving out this year? Did you ever get Jr. Frosty coupons when you were a kid?






Talk soon friends,
If you enjoyed this post, here are some more Tall Mom tiny baby posts that you may like:
* Number of coupons per book vary based on location
** $0.85 cents of every dollar from the Halloween Coupon Books will go to support the Dave Thomas Foundation for Adoption.